I have a 9 month old tri girl available from the Simon-Trouble litter.
Happy New Year! I'm looking forward to the new year. Simon, Player and Cher will be out at select shows this spring. I'm waiting for Tux to coat back up and hopefully be back in the ring late this spring. Tux has some pretty puppies just coming of age that will be seen at specialties over the next several months. Aspen is still in Manitoba with Simone Rudolph. He has a new litter at Cassbar. Congratulations go out to Sherri Monahan, Charlene Jones and Sheila Monks. Their blue Megan daughter sired by Ch Shield Crest He's No Rookie picked up her first points and several major reserves out with Sheila this winter. Way to go Alex! (Shield Crest I have the Look).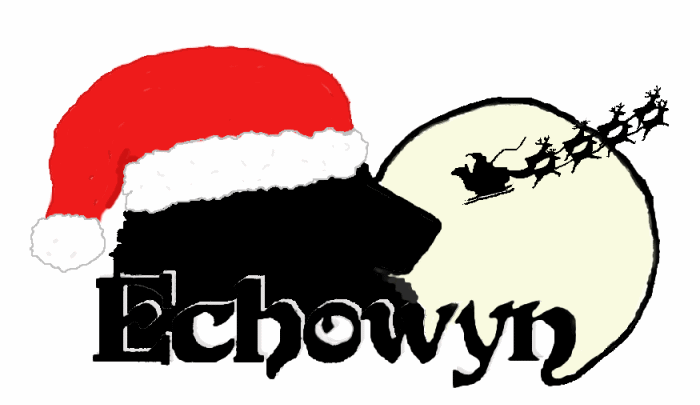 All of us at Echowyn wish you happiness this holiday season and throughout the coming new year!
If you have a sheltie that you have gotten from us, we'd love to hear from you!
The pups are all nestled snug in their beds. Dreams of biscuits and bones dance in their heads. The rustle of wrapping, shreds of ribbons and bows, means some nosey critter has taken a peek at the trove. * I hope you and yours find all your dreams under the tree this year.
We have puppies available from the Simon-Trouble litter.

Happy belated birthday to two of my sweet senior citizens; Fallon turned 16 in July and Face turned 15 this month. We have a new litter here sired by Simon out of Trouble (litter sister to Tux). Simon also has a new litter at Laurendel. Player is home from Canada, leaving behind 2 litters at Glamoor. Aspen is now proven and will remain in Canada through the fall.

Aspen added two titles to his name this month! He is now Am/Can Ch Echowyn Avalanche. Many thanks to Nick Joines & Joel McCarty of the Sunway Presentation team for both of Aspen's majors. Two weeks later, Aspen completed his Canadian title in 3 straight shows with two Group 1sts and a Group 2nd handled by Simone Rudolph (Glamoor, Reg). Simon picked up his first AKC points last month. **Flash** Player is now AKC pointed., winning 2 days in Fargo, ND with Simone. Updated pages for Aspen, Rascal, Player , Simon and Tux-Simone litter

Check out the Puppy Gallery for pictures of our two litters. Aspen is out on the circuit with Sunway Presentation looking for that final major then he will be off to Canada to get his Canadian championship. Tux has a third litter on the ground, bred by Vickie Bentley and Terry Jennings. You can watch them grow up on the Memories Shelties web pages. Simon has 3 puppies growing up at Skyehaven. We got out the camera and decided Rascal needed some updated photos
March 2007
We welcome home Simon, Can Ch Echowyn American Idol and announce new Canadian Champion Echowyn Almost Famous. Thank you Simone Rudolph for your care and great presentation of my boys! Player will remain in Canada through the spring. We also welcome two litters sired by Tux.
Happy 2007!
I hope that everyone has a year of health and happy times with friends and family... of all species.
I'm looking forward to the return of Simon (Can Ch Echowyn American Idol) from Canada this January and we'll be sending Player ( Echowyn Almost Famous) up to Manitoba to work on his Canadian championship with friend Simone Rudolph. Tux (Echowyn Night On The Town) and Aspen (Echowyn Avalanche) will be hitting the shows this spring, with select appearances by Simon and Cher .
Megan (Ch Echowyn Color by Moonlight) and Simone (Am/Can Ch Skyward Echowyn Mystique) are expecting litters in February.
December 2006: No news to report this month. We have some exciting litters planned this Spring, so check back in a month or two. If you have a sheltie that you have gotten from us, we'd love to hear from you!

Sept 2006: Where does the time go? Mr. Face, aka Echowyn Face Value, is 14 years young.
July 2006: Our lovely lady Echowyn Soft Focus (pts) turns 15 this month. Fallon is the grand dam of Echowyn and my heart dog.
June 2006: Finally! I've put up individual pages for the Musashi-Simone littermates. Its been very busy this year and this site has been sorely neglected. Simon is now Canadian Champion Echowyn American Idol. He is currently visiting at Glamoor in Manitoba. He will be with Simone Rudolph until sometime this fall. Aspen was WD both days at Moore Co KC this month, and Player was RWD one day.
Feb 2006: I've been so busy that I am way behind on updates: Megan had a litter Dec 23rd of three girls by Ch Shield Crest He's No Rookie. Four of Simone's summer litter will be debuting at specialties this month.

Nov 2005: We're enjoying watching the youngsters playing in the leaves. Fall is one of my favorite times of the year. News from the shows: Rascal picked up his second major in Virginia Beach and the last single in Fayetteville to FINISH and our Rascal son "Tux" (Echowyn Night On The Town) was Best In Sweeps at his first weekend of shows. Megan has a Christmas litter due by Ch Shield Crest He's No Rookie. New photos of Simone's litter have been posted.
Oct 2005: Not much news to report. I am still growing out several of Simone's litter. I couldn't be more pleased with these puppies. I haven't had much success in getting updated photos, but I'm ever hopeful that I will soon! Rascal picked up another win over Labor day. We haven't been to shows as everyone is out of coat this fall.
Aug 2005: Announcing new Champion Echowyn Color Bi Moonlight. Megan finished in grand style with a Group 2 from the classes. Rascal picked up 2 more points bringing his total to 10, and Aspen also picked up 2 more points the same weekend. I have finally posted photos of Simone's litter. They are darling....take a look!
July 2005: Simone is nursing a beautiful litter of 7 sired by Am/Jpn Ch PopStar SS of Northern Farm. Megan has minored out and is looking for that final major. I've posted her newest win photos.
Happy 14th birthday to Fallon - the grand dame of Echowyn Shelties.
June 2005: Aspen picked up his first 2 points at the Moore Co shows and even got to play in the Group one day. Megan is in the North East being shown by Sheila Monks and Charlene Jones. She's added 2 more points bringing her up to 11.
May 2005: We had a wonderful time at the National visiting with old friends, seeing all the beautiful dogs, and showing our own. Echowyn dogs made me proud. Aspen placed 3rd in his Futurity class and made the cut in the regular classes. Megan & Simone also made cuts in their classes. New photos of Emma's litter have been posted.
April 2005: We have gone to Collinsville to see all of our sheltie friends until the 25th! We will be having a sheltie good time!
On the Tarheel circuit in Raleigh in March, Rascal picked up 2pts under Donna Buxton. All thoughts are on the National specialty in Collinsville, IL . I have posted photos of Emma's litter in the Puppy Gallery.
Feb 2005: Simone has added a Canadian CH to her titles making her Am/Can Ch Skyward Echowyn Mystique Thanks goes to Simone Rudolph for handling her to this title. Aspen was RWD at the CVSSC specialty. Emma's litter is here! She whelped a lovely litter of 6 healthy babies. I hope to have photos posted in the Puppy Gallery soon.
Jan 2005: Happy New Year to all. May your year be filled with majors and promising puppies! Here at Echowyn we are looking forward to the start of the spring shows in February. Aspen will be attending select specialties and all breed shows up until the ASSA National. We are also eagerly awaiting litters out of Emma (Ch Echowyn Color Me Softly) and Eden (Ch Echowyn Soft Colors), due in February.
I have an 8 month old male looking for a companion home.
Nov 2004: Echowyn Avalanche makes his debut. Simone has left for Canada until April where she will be working on her Canadian title.
I have two dogs looking for companion homes. (a 6 month blue merle male & 11 month sable female)
Oct 2004 Announcing Champion #3 for 2004! Simone, is now New CH Skyward Echowyn Mystique. Simone picked up her final major at SSCOT under Kim Shive. Megan picked up 3 singles in September out in the pacific northwest with handler Maria Gardela. Megan then moved on to the southwest and took a BOB for 2 pts with handler Sue Healy.
June 2004: Photos have been posted in the Puppy Gallery of our new litters. New photos of Casper & Hazel.

May 2004 Updated: Break out the champagne for real this time! Emma finished at the Moore County show with a 3rd major under breeder judge Linda More. May has been a month of ups & downers for us. Emma finished, and then she wasn't, and now she IS! And, we shed many tears as we said good-bye to Sabrina this month as she left us for the Bridge.
May 2004 Updated: Oops! Put away the champagne! Well, our excitement was short lived, a mistake in counting dogs means Emma still needs a single to finish. Hopefully, she'll be able to pick up that last single soon. Eden has a beautiful blue male by Ch Apple Acres Expedition. Recently finished, Brooke has a litter of 7 by Echowyn Boys Night Out (major ptd). Watch for photos to be posted in the Puppy Gallery soon
May 2004: May has began with another new CHAMPION. Emma finished her championship on the first day of May under Houston Clarke. Echowyn Moulin Rouge (Diva) won her first 3 Canadian points with her co-owner Trisha Dowling.
March/April 2004: We're waaaay behind on updates. March = majors, and Emma acquired both of hers at shows in New York with Nick & Joel. That leaves her just 2 points to finish. April began with a new CHAMPION, Brooke is now CH Echowyn Soft Serenade. Brooke won her final major in Charlotte under Mrs. Polly Smith, handled by Nick Joines. Pass the champagne! Eden is due latter this month with a litter by Ch Apple Acres Expedition.
February 2004: Our luck at the shows continues this month. Rascal finally breaks his Reserve record in a big way taking a 5 pt major under judge Randy Sheets at the SSC of Spartanburg specialty. Brooke was RWB at the same show, and Rascal and Emma shared major reserves the next day. Emma has picked up Rascal's reserve habit, being awarded a major reserve under Nioma Coen in Tallahassee. In other news, we have 2 lovely sable puppies here sired by Barwood Santiago and I now have pictures of Eddie (Echowyn Share The Moment) who is co-owned with Joyce Woolridge.
January 2004: Happy New Year! January has kicked off the year right with wins for both Rascal & Emma in Charleston. Rascal was WD and Emma went all the way with WB/BW/BOB on Saturday & WB/BW/BOS on Sunday handled by Jane Hammett.

June 2002: New photos of Eden's litter by Armani has been posted to the Puppy Gallery. All the dogs are throwing off their winter clothes and trying on their summer wardrobe. Lots of hair EVERYWHERE except on the dogs! We have puppies and adult dogs available.
May 2002: All the dogs are throwing off their winter clothes and trying on their summer wardrobe. Lots of hair EVERYWHERE except on the dogs! We have puppies and adult dogs available.
April 2002: Levi-Brooke litter photos are finally up! Eden had a pretty litter of 5 by Armani. I'm in process of updating the

Links page. Simone has picked up another single point, and I've updated the photos on her page. You have to check out our little surprise. We do have available puppies and adults. We sure are looking forward to things slowing down for the summer months ahead...
March 2002: Well......Nothing yet! I have lots of edits to make to the web pages. I haven't had much chance the last two

months, but have plans for LOTS of new links, puppy pictures, update to the Ear Training instructions, and some brags! Here's a preview: Simone placed in her class at the 2002 National and Kizzy made the cut in her class! Brooke's litter by Levi is gorgeous and Eden is expecting by Armani! Check back soon!
January 2002: Snow Day! See photos of the winter storm and 2 new photos in Just 4 Fun.
January 2002: Welcome to the New Year. May 2002 be the year that you finally make those special dreams happen. We have some exciting plans - More on those later! Winter has finally come to North Carolina. The dogs are happy and frisky in the cooler weather. Six month pictures of the Sting/Cybil puppies are posted; see Kizzy & Breezy now! Santa brought me a new scanner, so I will fix some of the old photos and finally update the Puppy Gallery with puppy photos of the older dogs.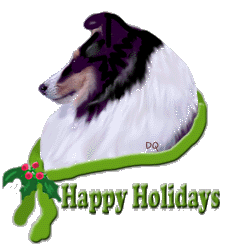 December 2001: Almost Christmas! I've been busy shopping and the girls have been busy growing new coats. All the shelties want for Christmas is some winter weather (you'd think we live in Florida! Its been unseasonally warm this fall). Have a very Happy Holiday Season, and may Santa bring you LOTS of dog biscuits.
November 2001: Whew! Its almost December. Since last update, Simone has picked up 4 pts (1 major! & a single). Brooke has garnered yet another major reserve (boo hoo!) Updates on the Available page, Links, Sheltie Info, and new puppy pics coming soon!



October 2001: Sheltie news is slim! We're impatiently waiting for our girls to grow their winter coats. Fall weather has been teasing us, here one day and gone the next. All the shelties want Fall to come stay and play a while! Updates on the Links page, the Sheltie Info page, and updates to the Puppy Gallery
September 2001: Lots of plans, so little time! New pictures of Cybil's babies in the Gallery. Two updated photos of Pepper on her page. Check back. I hope to add more stuff soon!
July 2001: Check out the *NEW*Puppy Gallery, Pepper's page, and note the new email address. The link page has been reorganized. AND! I've posted a thumbnail pedigree for a number of my dogs. Check it out!
May 2001:We survived the pollen season and ... hair, hair, everywhere!



March 2001:Puppy photos... Tabitha was lost and is found! Simone places at the ASSA Nat'l.