Echowyn Shetland Sheepdogs
We're bringing out the fall fashions for 2002:
Designs by Armani
Ch Apple Acres Odyssey Armani ROM x Ch Echowyn Soft Colors
Presenting:
Echowyn Color Me Softly. The Emma is a stylish formal with sweeping lines and dramatic flair in a silvery blue that is fashionable at any time of the year.
Echowyn Color Bi Moonlight. The Megan is a daring little number in classic black that is sporty, yet refined enough for even the most special occasions.
Designs bi Levi
Am/Can CH Shadland For The Moment x Echowyn Soft Serenade
From the Men's collection:
Echowyn Not A Moment Goes Bi. The Casper is business casual, sporting all the classic detailing and craftsmanship to be appreciated by the connoisseur, yet comfortable enough to wear to the park or in front of the fire place on a day off .
Come see the fall collection at a specialty near you.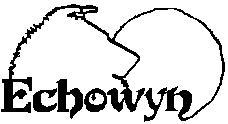 Krystn Messer – kmesser@echowyn.com
80 Doe Court, Apex, NC 27523-8400
http://www.echowyn.com
919-362-1941