Am/Can CH Skyward Echowyn Mystique
"Simone"
A/C CH Glamoor Capture The Image x Tall Timber Just One Look
Bred by Laurie Kron, Vickie Knepper, & Noel Bosse
May 9, 2000 - March 26, 2010
Our beautiful Simone left us suddenly one Friday morning after a seizure brought on by a brain tumor. We will miss her sweet and affectionate nature.
Simone came to us through the generosity of Laurie and Vickie of Skyward. I had long admired "Sting", her sire, and jumped at the chance to own one of his kids.

Simone thrilled us with her accomplishments as a puppy.
Best In Sweeps: Central Virginia SSC, Judge Laurie Schaum
4th 9-12, ASSA Futurity, Judge Lyn Krivanek
*5th* 9-12 ASSA reg classes, Dorothy Christiansen
RWB, Columbia KC, Judge Robette Johns
3rd 12-18 ASSA reg classes, Joe Molloy
WB for a major, Greater Charlotte SSC, Jean Simmonds

As an adult after taking time off for motherhood:
Columbia KC 9'03: BOB over specials (L Reasin), Group 3 (G Heitzman)
Hanover KC 10/03: BOB over specials (N Bodine), Group 3 (M Jeffreys)
SSC of Tidewater 10/04:BW, 4 pt to finish (K Shive)!!

February 2005: Simone swept the shows at Thunder Bay to gain her Canadian title in the capable hands of Simone Rudolph of Glamoor, reg.


Pedigree


2001 ASSA Nat'l , Riverside, CA


BOB from the classes & on to a Grp 3


Specialty major to finish under Kim Schive
From baby to "babe", Simone, our lovely "Sting" daughter from Skyward Shelties, grows up and makes us proud!
Simone placed 3rd in the Open Blue Class at the 2002 National in Shreveport.

**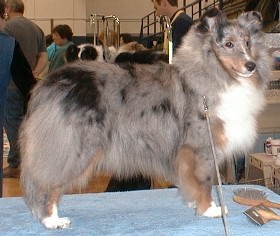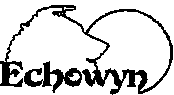 email Krys Messer at kmesser@echowyn.com
last updated: Apr 6, 2010