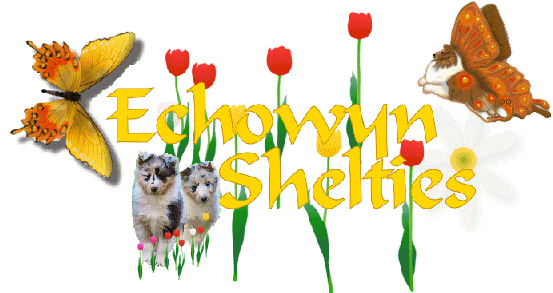 Welcome to the home page for Echowyn Shelties. Shelties have been my passion since my first sheltie "Nicholas" was acquired as a pet in 1985. Since that time, I have immersed myself in the study of the breed, breed related activities (training, showing, club associations), and interaction with others that are interested in the breed I love.
Echowyn Shelties, as a hobby, is dedicated to beautiful, healthy, intelligent companions. Above all, Shelties are companions - all other activities are just further proof of the versatility of the breed.
News for 2016
Ian (Ch Echowyn Obsidian) is now proven! A blue girl from that litter is being grown out as a show prospect. I have a blue male from his second litter here.
We have litters planned for late fall. Check back later for more information.


It is new Champion Echowyn Obsidian. Ian picked up his finishing major in Fredericksburg under Col. J Purkhiser and Select point the following day under Mrs. Purkhiser.
News for 2015
Last shows of the year for us we travelled down to Alabama to the Cotton Cluster. We had an amazing weekend, and brought home new Champion Echowyn All In A Dream! Paisley picked up 3 majors under specialty judges (Mark McMillan, Marcia Bittner, & Guy Jeavons) to finish and Ian picked up a major (Guy Jeavons) and 2 pt. win (Dianne Hawes). Sadly we also had to say good-bye to Casper who had been suffering from acute renal failure.

The fall was spent picking up minor points at local shows on Ian and Paisley. Player came out of retirement for a few shows and picked up a some Grand Champion points and enjoyed showing off in the veterans class.

We've only done a few shows this year so far, but have been proud of Ian and Paisley that have picked up multiple major reserves. At the ASSA National in Fredericksburg, Ian, Echowyn Obsidian went third in his 9-12 Futurity class, and Paisley, Echowyn All In A Dream, was third in the large Bred by Exhibitor class.

Ian and Paisley are now both pointed. Ian picked up points in Concord under Kathy Wilkins and won both days in Richmond in June. Paisley picked up her first point in Richmond.

For fun, I've updated the photo family tree of Echowyn Shelties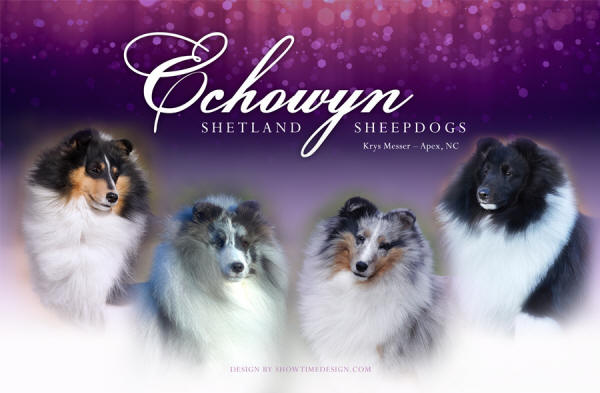 News for 2014
Ch. Echowyn All About Me, Heidi had a pretty litter sired by GCh Rosmoor Mojave. We've kept a Biblack boy, Echowyn Obsidian that we have high hopes for and have started showing Paisley, a littermate to Preston.

We've missed showing and hope to get out more in 2015.
News for 2013
My apologies for the old out of date web site. Its due for an overhaul. I keep telling myself - 'Someday.....'
Until then, come see us on Facebook!
News for 2012
We had a great time at the ASSA National in Florida this year. Preston, from Heidi's 2011 litter was first in his class in the 9-12 Futurity class. Banner was 4th in the Open Blue Dog class, and , despite having babies on board, Cher was 3rd in the Open Black class!

Heidi, Echowyn All About Me whelped a litter of six in March, sired by Am GCh Can Ch Belmark Shake Up. We had four show potentials in this litter.

Cher whelped a litter of two in April. This is her first litter and we are tickled that she gave us two bitch puppies that show lots of promise.
We have puppies and adults available
News for 2011
Visit our litters in the Puppy Gallery
Marcia Van Woert Prints for sale
News for 2010
Player completes his AKC championship with a 5 pt specialty major under Deborah Nordby at the Interstate specialty on Oct 10th.

Heidi, Echowyn All About Me is our newest star. She has picked up 6 pts this fall

Cher, won her first major at the Chesapeake shows under Carrie Chase

Simone and Rocky left us broken hearted as they passed away this year.

Congratulations to friend Patty Jackson!. Co-bred blue male "Doc" - Sandy Isle What's New In Blue, placed in the Open class at the ASSA National and finished his championship the following week.

Simon has left for Thailand. He now resides with Anek Sanehmahakul of Golden Star Shelties and Poms

Welcome! We're always happy to have other sheltie lovers stop by. This page is a work in progress....and seriously in need of an overhaul! I am adding content to these pages as I get the opportunity and adding to my experience as a fledgling webpage creator in the process. My hope is that one day - both will amount to something!
In these pages you'll find an introduction to our family and home. The dogs that make Echowyn shelties proud have their own individual pages that can be accessed from The Dog page. That's where you can find out what's available, what breedings are planned. I've also included a page of candid photos that are just for fun. Puppies, past & present can be seen in the Puppy Gallery.
If you are seeking information about shelties, please check out the links on the Sheltie Info page. I have listed links to primary resources and links to clubs with web pages. There is also a short article on training puppy ears. I hope to add other articles such as choosing a breeder, crate/house training, and puppy development in the near future. On the Links page, I have shared with you many of the resources I've found on the web, as well as a list of other Sheltie homepages.
I treat these pages as my internet scrap book, sharing with you the dogs we are proud to love and be loved by. Please treat the images on these pages with respect. Most all of the photos and graphics are copyrighted by the original photographer/artist. I have provided links on the Links page to the sites where these graphics and more can be properly obtained. Some of the drawings and backgrounds are my own and represent dogs special to me. Please ask before taking these for your own use. Thank you for your cooperation.
Please, look around, have a pleasant stay, and come back soon!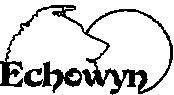 Krystn Messer
80 Doe Court, Apex, NC 27523-8400
email Krys Messer at kmesser@echowyn.com
Please watch your step - We're always under construction!

Thank you for stopping by for a visit!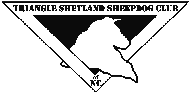 last updated: Aug2016