Am/Can CH Skyehaven Royal Hills Trouble
x
CH Echowyn Soft Colors
December 21, 2000

Eden is OFA Excellent and VwD clear by DNA test, Eyes Normal
Trouble is OFA Good, VWD clear, Eye Cerf Normal, DNA Tested

Above: Tri girl, biblack boy, biblue boy, tri boy

Above: biblack boy, tri boy, biblu boy, tri girl
click here for pedigree of litter

Ch Echowyn Soft Colors, "Eden", delivered a litter of 5 in the wee hours on December 21st. We are saddened that one little blue merle boy did not survive the week. The remaining 4 puppies are fat and healthy. The proud papa isAm/Can CH Skyehaven Royal Hills Trouble. There are 3 boys and one girl. The little girl is a tri, the boys are one each: tri Biblue, and Biblack.

All of these puppies have found homes. The Biblue boy is growing up in Texas. The Tri girl is growing up here, and the other two boys have found loving homes in the local area.

Tri girl, 1 week


Tri Male , 1 week


Biblue Male, 1 week


Biblack male, 1 week

Eden mentally prepares for labor.
Is this what they teach in lamaze?

Its moms night out. Stephanie Messer's babysitting service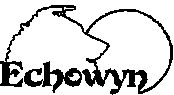 email Krys Messer at kmesser@echowyn.com

last updated: December 30, 2000